19 October 2015
VietNamNet Bridge – Top officials of the Vietnam National Administration of Tourism (VNAT) said the opportunity to introduce Vietnam to the world is wide open, after some beauty spots in Vietnam appeared in the latest Hollywood movie about Peter Pan.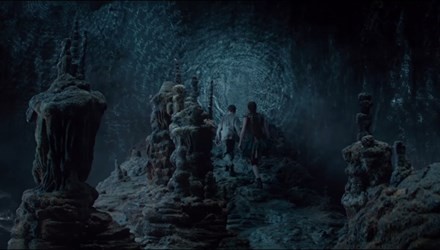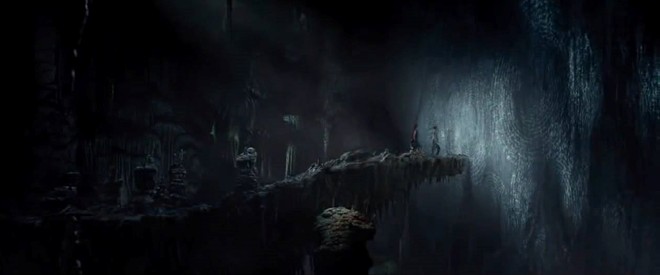 En Cave in "Pan".
The premiere of "Pan" in Vietnam was on October 9. The move immediately attracted the local media and public because some poetic images of Vietnam's Ninh Binh, Ha Long Bay and En Cave appeared in the film.

At a recent meeting of VNAT on tourism activities in 2015, Dinh Ngoc Duc, director of the VNAT's Department of International Cooperation, said that advertising tourism via movies has been done elsewhere, with New Zealand as an example. Only six months after The Lord of the Rings movie was released, the number of tourists to the country skyrocketed.

Another example is Thailand, which invited China to make a film about Chiang Mai. After the film was screened in China, the flow of Chinese tourists to Thailand soared.

Duc said Vietnam had missed many opportunities to welcome large film crews to Vietnam because of cumbersome procedures. He confirmed that Vietnam would spread out the red carpet to international film crews.

"We will choose the typical images of Vietnam to make a database as reference for international film crews if they want to film in Vietnam," Duc added.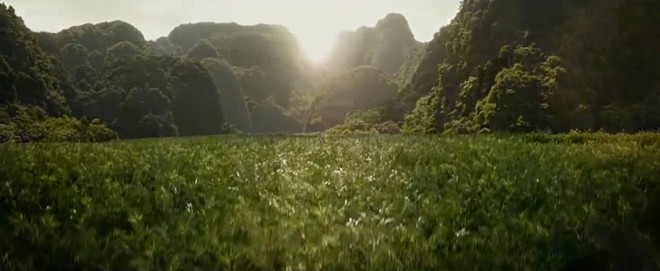 Ninh Binh in "Pan".
"We know that the King Kong 2 film crew planned to film in the En Cave in Quang Binh Province. We must take advantage of opportunities like this. If Quang Binh needs assistance, the VNAT is willing to help," said VNAT's chief Nguyen Van Tuan.

Tuan said October and November is the peak time for tourism promotion, with hundreds of events, including the visit of a group of Bollywood filmmakers from India.

Duc said the Indian Ambassador to Vietnam was very interested in tourism cooperation between the two countries. It is expected that an Indian Film Festival will be held in Vietnam this December. On this occasion the VNAT will invite famous Indian film directors to visit Vietnam's most well-known tourist sites, such as Hanoi, Ha Long, Ninh Binh, Sapa, Ha Giang, Da Nang, Hoi An, My Son Holy Land and the Mekong Delta.

How will Vietnam tourism benefit from movie projects?

After the blockbuster "Pan" was screened in Vietnam, many local audiences were surprised to see spectacular scenes of Vietnam in the movie.

When the movie was advertised world-wide, no information about Vietnamese scenes was released. It was said that the film crew travelled to Vietnam several times for survey of scenes. They then used the images they shot during the trips in the movie, without having to go through any formalities to get permission from Vietnam authorities. And the name Vietnam did not appear in advertising.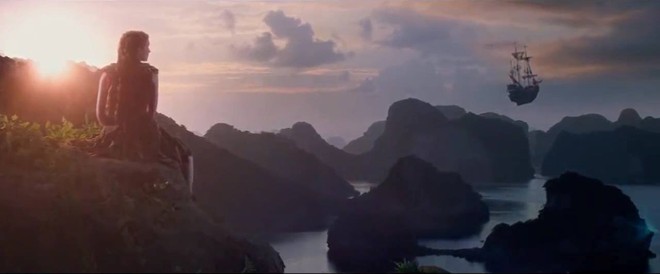 Ha Long Bay in "Pan".
Most recently, it was rumored that many scenes in King Kong 2 (directed by Jordan Vogt- Roberts) will be shot in Phong Nha (Quang Binh province) and Ninh Binh province.

Can Vietnam can take advantage of this to promote tourism?

A story was told among Vietnamese filmmakers that "Heaven and Earth" by Oliver Stone, which won the Golden Globe Award 1994, could have been filmed in Vietnam.

At that time, the Cinema Department in Vietnam asked to read the script. But Oliver Stone claimed "Even the American president is not allowed to read my script"! No one knows whether if that was why the movie was shot entirely in Thailand.

After that movie, many Hollywood movies chose Thailand, Philippines, Cambodia ... not Vietnam, to film.

For the foreign films that were shot in Vietnam, the most prominent were The Quiet American by Phillip Noyce's, The Lover by Jean-Jacques Annaud, Indochina by Régis Wargnier, Dien Bien Phu by Pierre Schoendoerffer, Cyclo and The Vertical Ray of the Sun by Vietnamese-French director Tran Anh Hung ... However, the local tourism industry did not use these opportunities.

Film producer Tran Thi Bich Ngoc, who participated in Pinkville, The Last Airbender, Beautiful Country, The Vertical Ray of the Sun, and The Quiet American, said that for a country that is as inexperienced in film production as is Vietnam, the arrival of foreign film crews is always a golden opportunity to promote the image of Vietnam and attract international visitors.

However, to take advantage of this opportunity, the authorities should have a more professional attitude and create the best conditions for foreign film crews and binding regulations so that the name of Vietnam must appear during the promotion of the movies.
Source: Vietnamnet